The Development of Metal and X-Ray Detectable Plastic Materials
August 17, 2017
One of the more interesting advancements in recent years that is making an impact is the development of metal and X-ray detectable plastic materials. Awareness and heightened scrutiny of food safety and contamination in food processing has grown in importance. Several leaders in the plastics stock shape industry have made available food grade materials that can be detected by standard metal detection and x-ray detection equipment that is commonly utilized in the food processing industry.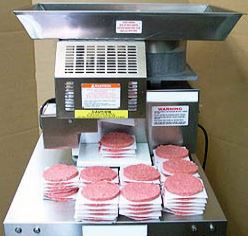 Stainless Steel is a very common material used in food processing equipment and is easily detectable. However, there are many advantages to using plastics in certain applications. Plastics are lighter and have lower coefficient of friction requiring little or no lubrication. Many plastics have better chemical resistance, create less noise and may be less expensive than steel parts. However, until recently, one major drawback to plastic components are their ability to be "seen" by normal systems of detection.
Many plastic materials used in food applications are blue in color. Because there are virtually no food ingredients that are blue, this allows any material to be visually detectable as well. The additives that allow the material to register with detection equipment is kept to a minimum so the base material does not lose the properties that make it useful.
Roechling Engineering Plastics and Ensinger Plastics, Inc are two manufacturers that are leaders in developing food grade detectable plastic materials.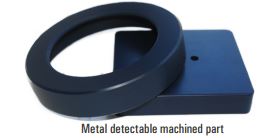 Roechling Metal Detectable Plastics
Polystone M MDT (UHMW-PE)
SUSTARIN C MDT (Acetal)
Roechling X-ray Detectable Plastics
Polystone M XDT (UHMW-PE)
SUSTARIN C XDT (Acetal)
SUSTAPEEK XDT (PEEK)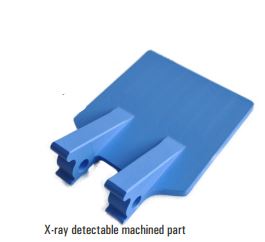 Ensinger Ultra Detectable Plastics – Metal and X-ray Detectable Plastics
TECAFORM AH UD Blue (Acetal)
HYDEX 4101 UD BLUE (PBT)
TECAPEEK UD BLUE (PEEK)
Applications for detectable materials include:
Scraper blades
Mixer components
Rollers
Wear strips
Bushings
Bearings
Guides
Sprockets
Agitators
Pharmaceutical packaging
Pillow blocks
Gears
For more information on food grade detectable plastic materials, please contact one of our Customer Account Specialists at info@eagle-plastics.com or visit the following websites: