Answering the Call to Help Hurricane Victims
September 15, 2017
The effects of Hurricane Harvey that hit Houston just a few weeks ago are devastating.  Besides wind and storm surge, hurricanes and tropical storms are notorious for producing torrential rainfall and flash flooding. Unfortunately, Harvey was unique. Instead of moving inland and farther away from the coast, Harvey stalled over South and Southeast Texas for days, producing catastrophic devastating and deadly flooding. Southeast Texas beared the brunt of the heavy rainfall, with some areas receiving more than 40 inches of rain in less than 48 hours.
Eagle's Director of Operations, Don Dewitt, was contacted by his cousin, a doctor in the Houston area.  She has been busy caring for her regular patients along with those who have been displaced into shelters and other temporary housing solutions.  She spoke of the immediate as well as the long term need for these folks.  It will take quite a while to rebuild all the houses affected by the flood.  Although a great deal of aid has reached the area, they are still in need of basic personal care, food and clothing items.
Don decided to enlist the help of his coworkers at Eagle to put together a shipment of personal care items and clothing to send the victims.  Jared Bailin, President of Eagle Performance Plastics, quickly agreed to pay for the shipping costs of the items.  Throughout the week, many employees brought in their own donations along with donations from friends and families.  All will be sent directly to St. Anne Church in Tomball, TX which has been set up as a shelter for displaced persons.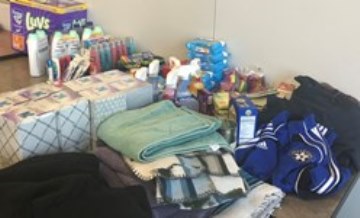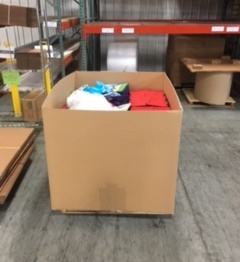 Dewitt is impressed with everyone's generosity.  The team was able to put together a pallet sized box of items together.  "I am no J.J. Watt, but it is nice to see that we are able to put a little something together to help make a difference for the people in the shelter."